Ian Hacking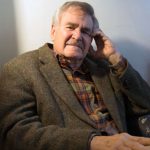 Contact
Position:
University Emeritus Professor
Phone Number:
416-978-3311
Biography:
BA, University of British Columbia
MA, University of Cambridge
PhD, University of Cambridge
Fellow of the Royal Society of Canada
For more information visit Prof. Hacking's personal website.
Research Interests:
Philosophy of Language, Philosophy of Science
Publications:
Books include Logic of Statistical Inference; The Emergence of Probability; Why does Language Matter to Philosophy?; Representing and Intervening; The Taming of Chance (1990); and Le plus pur nominalisme (1993), The Social Construction of What? (1999).
Address:
Jackman Humanities Institute, 170 St. George Street, Toronto, ON M5R 2M8