Mihai Ganea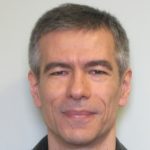 Position:
Sessional Lecturer
Email Address:
Research Interests:
Logic, Philosophy of Mathematics
Publications:
"On the Grammar of First-Order Logic", Romanian Journal of Analytic Philosophy 7 (2013), 5-18.
"Two (or Three) Notions of Finitism", The Review of Symbolic Logic 3 (2010), 119-144.
"Burgess' PV Is Robinson's Q", The Journal of Symbolic Logic 72 (2007), 619-624.