Allison Piñeros Glasscock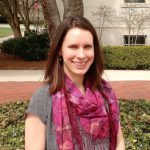 Position:
Postdoctoral Fellow
Email Address:
Biography:
BA, Western Oregon University
MA, University of Toronto
PhD, Yale University
Allison specializes in ancient philosophy and has a particular interest in issues at the intersection of ancient ethics and epistemology. Her dissertation in the Classics and Philosophy Combined Program at Yale dealt with arguments for the value of knowledge and learning in four Platonic dialogues. For more information visit Allison's personal website.
Research Interests:
Ancient Philosophy, Early Modern Philosophy, Epistemology, Ethics