Chao Wei (Alice) Huang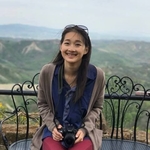 Position:
Graduate Student
Email Address:
Biography:
BA,  New York University, Abu Dhabi, United Arab Emirates
Alice grew up in a small city in Taiwan and moved to Abu Dhabi for university, where she stumbled upon philosophy. Her current interests are philosophy of mind, metaphysics and some more specific topics such as philosopohy of quantum mechanics and Integrated Information Theory. Among the things that makes her tick are: conversations about philosophy (of course), dance, backpacking, prose poetry, stouts and vinyls.
Research Interests:
Mathematics, Metaphysics, Philosophy of Mind