Chao Wei (Alice) Huang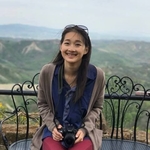 Position:
Graduate Student
Email Address:
Biography:
BA,  New York University, Abu Dhabi, United Arab Emirates
Alice is a PhD candidate interested in social and formal epistemology, and the application of computational methods to philosophical reasoning. She also enjoys thinking about metaphysics and things related to consciousness.
She grew up in Taiwan and moved to Abu Dhabi for university before coming to Toronto. When she is not doing philosophy, she spends her time dancing, writing and reading poetry, kitesurfing, and training for triathlon.
Research Interests:
Agent-based Simulations, Epistemology, Metaphysics