Eliran Haziza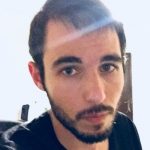 Position:
Graduate Student
Email Address:
Biography:
BSc, Tel Hai College (Computer Science)
MA, Tel Aviv University (Philosophy)
My primary philosophical interests are in epistemology, language, and logic. I'm also interested in ethics and metaphilosophy. Before coming to Toronto I lived in Tel Aviv, Israel, where I completed an MA in philosophy and worked in software for several years. My name is pronounced eh-lee-run.
Research Interests:
Epistemology, Logic, Philosophy of Language