Eric Shoemaker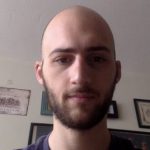 Position:
Graduate Student
Email Address:
Biography:
BA, University of Toronto
MA, University of Toronto
Eric is particularly interested in branches of philosophy to do with normativity, specifically political theory, ethics, jurisprudence, and practical reason. The philosophers he finds most intriguing are Christine Korsgaard, Derek Parfit, Marx, Rawls, Burke, Hobbes, and Machiavelli.
For his BA, he had a specialist in philosophy, and a major in political science. Eric became interested in philosophy in the last year of high school, when a stoner friend of his encouraged him to read The Groundwork of The Metaphysics of Morals by Kant, and he has been interested in politics since the 2006 Canadian federal election. The line between Eric's academic interests and hobbies is thin. Eric has written constitutions for imaginary countries, he sits on the board of directors for a non-profit called Karate Ontario, and has published a table top role playing game.
Research Interests:
Ethics, Political Philosophy