Irene Binini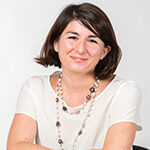 Position:
Postdoctoral Fellow
Email Address:
Biography:
BA, University of Parma
MA, University of Parma
PhD, Scuola Normale Superiore, Pisa
Irene is a researcher in the history of medieval philosophy and the history of logic, with a special interest in ancient and medieval logic. Currently, she is a Marie Sklodowska Curie fellow, conducting a project devoted to medieval theories of modalities, carried out at the University of Parma in collaboration with the University of Toronto.
At the University of Parma, Irene teaches a course in History of Ancient and Medieval Logic; for the University of Toronto, she currently co-teaches the seminar course in Themes in Medieval Philosophy with Peter King.
Apart from medieval logic and modal theories, Irene is deeply fond of music, walking and mountains, Italian food and slow ways of travelling. Since 2017, she has served as coordinator of the festival It.a.cà, dedicated to responsible tourism (editions: 2017, 2018). She is also a member of the association Il Taccuino di Darwin, which organizes outreach events mostly dedicated to the topics of sustainability, interculturality, and active citizenship.
Research Interests:
Ancient Philosophy, Logic, Medieval Philosophy