Lis McMillan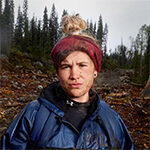 Position:
Graduate Student
Email Address:
Biography:
BA (Philosophy & French), Dalhousie University
Lis is an MA student in the Department of Philosophy. She is drawn to questions about action and value like white sneakers are drawn to fresh mud; she says she "gets stuck in and marked." For the time being, she is interested in the roles that action and value play in consequentialist systems of ethics, rational decision theory, and our understanding of the target of both. Some questions on her mind include, but are not limited to: What is the difference between the "good" we bring about and that which is constituted by our actions? How do things like love and friendship, which aren't consequences but something else, come into play in determining right action? Is rationality's central goal to maximize subjective self-interest or objective interests? Is there one definition or conception of 'good' that encompasses all good things, or does value come in many kinds? What would it mean for consequentialist ethics (especially for utility calculus) if there were many, incommensurable sources of value in the world? Additionally, Lis has interests in the philosophy of probability, logic, and the philosophy of mind, though she has not yet found their precise intersection with the above.
Outside of philosophy, Lis loves the great outdoors, playing and composing music, and blending in with people in their 20s.
Research Interests:
Decision Theory, Ethics, Logic, Philosophy of Mind, Philosophy of Probability