Máté Veres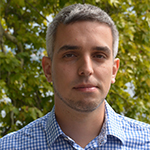 Position:
Postdoctoral Fellow
Email Address:
Biography:
Diploma (MA-equivalent), Eötvös Loránd University, Budapest
PhD, Central European University, Budapest
Máté's primary research interests are in ancient philosophy, with a focus on Hellenistic epistemology and ethics. He is currently a postdoctoral fellow in the Collaborative Specialization in Ancient and Medieval Philosophy (CPAMP), working on issues related to the notion of technê in Hellenistic philosophy.
Máté received his doctoral degree from the Central European University. During his studies, he was a Fulbright scholar at the Sage School of Philosophy, Cornell University, a visiting student at the Faculty of Classics, University of Cambridge, a scholarship recipient at the Fondation Hardt in Geneva, and a visiting junior fellow at the Institut für die Wissenschaften vom Menschen in Vienna. He then held postdoctoral positions at the University of Hamburg, at the University of Geneva, and at Eötvös Loránd University, Budapest.
For more information, please visit Máté's personal website.
Research Interests:
Ancient Philosophy, Early Modern Philosophy, Epistemology, Ethics
Publications:
* 'Expert Impressions in Stoicism', Archiv für Geschichte der Philosophie (accepted, available online-first) (with David Machek).
* 'L'origine de la croyance religieuse selon Sextus Empiricus', in Sylvia Giocanti (ed.), Anthropologie sceptique et modernité. Lyon: ENS Editions (forthcoming in July 2022).
* Attention in Ancient Philosophy. Special issue of Rhizomata: A Journal for Ancient Philosophy and Science, vol. 9, issue 2 (2021), edited with David Machek.
* 'How to Resist Musical Dogmatism: The Aim and Methods of Pyrrhonian Inquiry in Sextus Empiricus' Against the Musicologists (Math. 6)', in F. Pelosi and F.M. Petrucci eds., Music and Philosophy in the Roman Empire (Cambridge: Cambridge University Press, 2021), 108-130.
* 'Sextus Empiricus on Religious Dogmatism', in V. Caston (ed.), Oxford Studies in Ancient Philosophy, vol. 58 (2020), 239-280.
* 'Keep Calm and Carry On: Sextus Empiricus on the Origins of Pyrrhonism', Logical Analysis and the History of Philosophy 23.1 (2020), 100-122. (Special issue: Ancient Modes of Philosophical Inquiry, eds. J.K. Larsen and Ph. Steinkrüger.)
* 'Theology, Innatism, and the Epicurean Self', Ancient Philosophy 37.1 (2017), 129-152.
Address:
Jackman Humanities Building, Room 424, 170 St. George Street, Toronto, ON M5R 2M8