Matthew Valiquette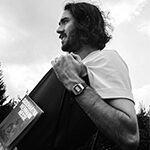 Position:
Graduate Student
Email Address:
Research Interests:
Cognitive Science, Ethics, Philosophy of Science
Publications:
BA (Honours Philosophy), Concordia University
Matthew is a graduate student pursuing his MA in the Philosophy of Science stream at the University of Toronto. His interests gravitate mainly around cognitive science, ethics, and biotechnology, as they relate to human identity and philosophy more broadly. His past research projects have focused on free-will in the context of addiction and stakeholders' opinions on the recent legalization of cannabis in Canada.
Outside of academia, he spends his time working in drug use harm-reduction as a substance analyst and first responder. He enjoys writing, reading fiction, listening to music, camping, gardening, and spending time with others.