Paul Thompson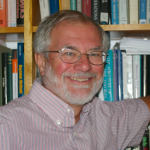 Email Address:
Phone Number:
416-978-4945
Biography:
Prof. Thompson is Professor of philosophy and of zoology at the University of Toronto. He has been a Vice-President of the University (2002-03) and Principal and Dean of the University of Toronto at Scarborough (UTSC) (1989-2002).
He received his PhD in 1979 for his thesis, Genetic Explanation Schemes in Biology. He has held visiting professorial appointments at the University of California at Davis and the University of Guelph.
He is the author of The Moral Question and The Structure of Biological Theories and is editor of Issues in Evolutionary Ethics. He is the author of over 40 single authored journal articles on evolutionary theory, theory structure in biology, and biomedical ethics. In addition, he is a member of: the Bayer International Advisory Council on Bioethics (a council which is independent from Bayer but advises it and other organizations on bioethical issues related to blood products); and a member of the Monsanto Biotechnology Advisory Group (advisory to, and chaired by, the President of Monsanto).
He is President of the Green Door Alliance Inc. (a non-profit organization dedicated to preserving agricultural land in Ontario) and a Director of the Canadian Foundation for the Preservation of Chinese Cultural Heritage and Treasures.
In 2002, he was the recipient, through the Office of the Governor General of Canada, of a Queen Elizabeth II Golden Jubilee Medal for exceptional contributions to education and environmental protection. In 2003, he was inducted as a "Honorary Fellow of Centennial College" for his work on developing joint academic programmes between UTSC and Centennial College (a college of applied arts and technology). He is married and has three adult children. Publications can found on his full CV.
For more information visit Prof. Thompson's personal website (incl. CV).
Address:
91 Charles Street West, Victoria College, Toronto, ON M5S 1K7