Rachel O'Keefe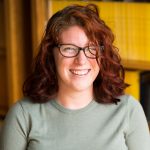 Position:
Graduate Student
Biography:
BA, St. Thomas University 2013 (Honours in Philosophy, Major in French)
MA, University of Toronto 2014 (Philosophy)
Rachel is a PhD candidate in the Philosophy Department and the Collaborative Programme in Ancient and Medieval Philosophy (CPAMP). She is interested in the history of metaphysics, particularly in Ancient Greek philosophy. Her dissertation focuses on Plotinus' theory of matter and examines the role of non-being in a hierarchical metaphysical system.
Research Interests:
Ancient Philosophy, Ethics, Metaphysics, Political Philosophy