Rashad Rehman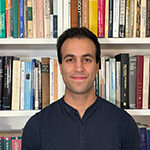 Position:
Graduate Student
Email Address:
Biography:
BA, King's University College, Western University
At the University of Toronto, Rashad is a PhD student in the Department of Philosophy, and a Collaborative Specialist in Bioethics through the Joint Centre for Bioethics (JCB). His dissertation research is in pediatric bioethics, specifically the optimization of care for those born with differences/disorders of sexual development (DSD)/intersex. The thesis defends an ethical framework, rooted in individualized patient-centred care, to regulate intersex pediatric surgery (IPS).
Rashad is also a TCPS2-certified student member on the Social Science, Humanities and Education Research Ethics Board (SSHE REB) at the University of Toronto, as well as a project-specific bioethics research volunteer under Dr. Rebecca Greenberg in the Department of Bioethics at Mount Sinai Hospital. 
A medievalist at heart, outside of his doctoral work, Rashad writes on ancient and medieval ethics—especially St. Augustine, St. Thomas Aquinas, Plato, and Aristotle —through the writings of German, Catholic philosopher Josef Pieper (1904-97). 
For more information about his research, please visit Rashad's personal website.
Research Interests:
Bioethics, Ethics, Medieval Philosophy
Publications:
"Is Intersexuality a Mere Difference or Disorder?" Bioethics (2022): 1-7.
"Philosophizing Together: Josef Pieper on Philosophical Responsibility and Expertise" Spontaneous Generations: A Journal for the History and Philosophy of Science 10.1 (2022): 88-97.
"Sana oculos meos: Alypius' Curiositas in Augustine's Confessiones (6, 8, 13)" Augustinianum 61 (2021): 137-152.
"Perfect Freedom in The Good Place and St. Thomas' Commentary on the Gospel of John" De Philosophia I.I (2021): 1-15.