Taylor Barinka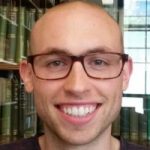 Position:
Graduate Student
Email Address:
Biography:
BA, University of Michigan (Classics)
MSt, Oxford (Ancient Philosophy)
Taylor's research concerns the Ancient Greek and Roman philosophical traditions, with a particular focus on Plato, Aristotle, and Plotinus. He is interested in the unity of their thought, and tends to ask questions about how metaphysics, epistemology, psychology, and ethics inform one another. When he is not doing philosophy, he likes to practice his Greek and German, crack open an audiobook, and go running.