Unnati Patel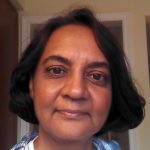 Position:
Graduate Student
Email Address:
Biography:
BASc, University of Toronto (Class of Electrical), MBA, PMP
Unnati Patel is an engineer with over twenty-five years of leadership, technology and project management experience. She recently pursued her lifelong dream to study the humanities and will shortly complete the specialist in philosophy HBA at University of Toronto Mississauga.
Her main interests involve the intersection of the issues in ethics; philosophy of mind; eastern philosophical traditions and how they apply to and are informed by the recent technological advancements of the Artificial Intelligence (AI).   She wishes to advance research topics in philosophy of mind by working collaboratively across the disciplines of western philosophy; eastern philosophy; as well as current scientific approaches and technology advancements.
Research Interests:
Ethics, Philosophy of Mind