A great graduate department rests on more pillars than student excellence and a well-functioning administration. At least as important is a sense of thriving and supportive community—and while department leadership and staff certainly play a role in helping create such community, much of that work, often not or under-recognized, depends on the students themselves. Long aware (and proud) of those student efforts, the Department of Philosophy's chair, Martin Pickavé, and the director of graduate studies, Amy Mullin, in 2021 decided the time had come for an official acknowledgment, and inaugurated the Graduate Student Service Awards. The recognition seemed particularly important following the first 18 months of the global COVID-19 pandemic, which had placed immense additional strain on students.
This year marks the third time the department solicited nominations for the Graduate Student Service Awards from faculty, grad students, and staff. The decision on who to honour among an active and deeply engaged group of students proved as challenging as ever, but in the end, seven names stood out: Spencer Albert, Andriy Bilenkyy, Joshua Brecka, Alice Huang, Natalie Martin, Lis McMillan, and Eric Shoemaker. They had set themselves apart for their peer support in matters of mental health and disability, work on the department's Climate Committee, innovative student union leadership, the organization of a vibrant academic conference, and the reframing and rewriting of the Graduate Philosophy Student Union (GPSU) constitution. Each of the honourees receives a $1,000 award.
Mullin acknowledged, "The Graduate Department of Philosophy is very fortunate in its graduate student leaders and justly proud of them. For the third year we are honouring some of those leaders with Graduate Student Service Awards in recognition of their vital contributions to departmental life and the profession."
And Pickavé points to the importance of highlighting in public the essential work done: "I think these awards are great to celebrate excellence in leadership in the department and to say, as a community, thank you to some of those graduate students who have shown special dedication to the life of the graduate department."
Congratulations to all the award winners, and thank you—again—for all the work you do to help make the community thrive.
Spencer Albert
I am deeply honoured to receive a Graduate Student Service Award. It means a lot to me that the Mental Health & Disability Caucus has continued to have positive impact in our community, and I couldn't be more grateful to be a part of it. I am also thankful for the work put in by my predecessors at MH&D, my fellow co-organizers, and all the graduate students involved in the caucus—it takes a lot to support each other, and MH&D's success this year wouldn't have been possible without them.
Andriy Bilenkyy
I'm immensely grateful to my colleagues for nominating me for this year's Graduate Service Awards. And I take it to be a testament to the effectiveness of the entire Graduate Philosophy Student Union, which I had the privilege to serve in an executive capacity this year. The credit for this effectiveness ought to be shared by the holders of various offices within the GPSU, including my fellow execs. But it also ought to be shared by those members of the GPSU who, while not serving in any public capacity, had been reaching out to me throughout the year with concerns, recommendations, and requests. It's been my pleasure and privilege to be there to listen and act upon what I heard. And I take my award as an indication that listening to the community and taking one's guidance from it is a fundamental feature of effective and meaningful service.
Joshua Brecka
Receiving this award really validates the time and effort I put in over the last year contributing to the already great U of T philosophy community. I'm deeply grateful to the department and to my graduate peers for the opportunity to help with projects we collectively find important. I'm thankful for the department's recognition of my efforts, and I look forward to continuing to work together to improve our vibrant philosophical community.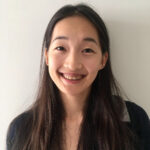 Alice Huang
I'm grateful to be given the opportunity to bring some of the issues that I felt were less discussed into the conversation this year and learn about the resources to help students navigate difficult situations. I hope to continue working with the graduate community, in whatever capacity, to create a productive and welcoming environment together.
Lis McMillan
I was nominated for this award for my work on the Climate Committee this year, and I'm thrilled that our efforts are having an impact and grateful to be recognized for it. At the same time, this makes me think about how lucky I am to be in a group of people that accepts my (sometimes annoying) passion for collaboration and community. One of the things I love about working as a TA is seeing firsthand the way that community makes us better thinkers and philosophers. Classrooms of quiet kids fill up with smart and funny philosophical ideas when the students feel comfortable enough to break the ice, make mistakes, be corrected, and learn from each other. This is true for us too. I joined the Climate Committee in part because I wanted to help us create that kind of flourishing comfort here, and in part because I already felt it. 
Natalie Martin
I'm very grateful for the opportunity to be a small part of the Philosophy Department's rich and lively graduate community. I am deeply thankful for the recognition, especially considering that there are so many excellent graduate students who dedicate their time and energy to making our department a great place to be. I feel extremely lucky to receive this award and to be here in Toronto with you all!  
Eric Shoemaker
Working on the constitution for the GPSU was a delightful experience. It is humbling to be acknowledged for my contribution. It is my hope that this document will make the GPSU easier to use for graduate students in a lasting way.
SHARE