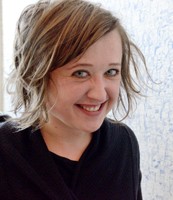 UTSC Associate Professor Karolina Hübner's research interests are in the history of metaphysics and philosophy of mind, with particular focus on early modern philosophy, Jewish philosophy, philosophy of religion, and Spinoza. Get to know more about her in this Q&A!
How did you get interested in philosophy?
I got interested in philosophy after taking Introduction to Philosophy on the recommendation of a friend during my first year of university.
What are you working on right now?
I'm working on articles on Spinoza's conceptions of causality and individuation, as well as on the German Idealist reception of Spinoza.
Who is your favorite 'historical' philosopher?
Probably Spinoza.
Of the philosophy teachers you found especially influential, what was something distinctive you learned from one of them?
I admired their sheer brilliance.
What do you try to bring your undergraduate students in the classroom?
Appreciation for how exciting and revolutionary the ideas we are talking about are; appreciation for the importance of the critical thinking philosophy teaches for our everyday social and political lives; faith in their own abilities.
SHARE