Gurpreet Rattan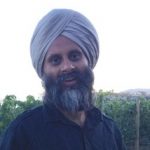 Position:
Associate Professor and Director of Graduate Studies
Email Address:
Phone Number:
416-978-3312
Biography:
BSc, Simon Fraser University (Physics and Philosophy)
MA, Columbia University
MPhil, Columbia University
PhD, Columbia University
For more information visit Prof. Rattan's personal website.
Research Interests:
Epistemology, Philosophy of Language, Philosophy of Mind
Publications:
 Some Recent Publications
 'Are Propositions Mere Measures of Mind' (forthcoming), Philosophy and Phenomenological Research
'Truth Incorporated' (2016), Noûs, 50 (2): 227-258.
'Epistemological Semantics Beyond Irrationality and Conceptual Change' (2014), Journal of Philosophy, 111(12): 667-688.
Address:
Jackman Humanities Building (room 409), 170 St. George Street, Toronto, ON M5R 2M8
Secondary Address:
6th Floor, New North Building (Rm. 6160), 3359 Mississauga Rd., Mississauga, ON L5L 1C6