Michael Miller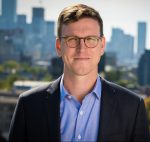 Position:
Assistant Professor
Email Address:
Biography:
PhD, University of Pittsburgh
MA, Columbia University
BA, University of Chicago
Professor Miller's research interests are primarily in the philosophy of physics, the philosophy of science, and metaphysics. More information about his research and teaching can be found on his website.
Research Interests:
Metaphysics, Philosophy of Physics, Philosophy of Science
Publications:
"What, if anything, does quantum field theory explain?" Metascience (2017) 26:455-457. Review of Jonathan Bain: CPT invariance and the spin-statistics connection.
"Haag's theorem, apparent inconsistency, and the empirical adequacy of quantum field theory"(forthcoming in The British Journal for the Philosophy of Science).
"The origins of Schwinger's Euclidean Green's functions", Studies in History and Philosophy of Modern Physics (2015) 50:5-12.
Address:
Jackman Humanities Building (room 514), 170 St. George Street, Toronto, ON M5R 2M8