Mohan Matthen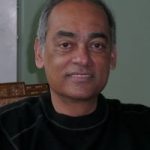 Position:
Professor and Canada Research Chair in Philosophy of Perception
Email Address:
Biography:
BSc (Physics), University of Delhi
MA, University of Delhi
PhD, Stanford University
Fellow of the Royal Society of Canada
For more information visit Prof. Matthen's personal website.
Research Interests:
Ancient Philosophy, Philosophy of Mind
Publications:
Books:
Seeing, Doing, and Knowing: A Philosophical Theory of Sense Perception (Oxford: Clarendon Press, 2005): xxii + 362 pp. Paperback edition, 2007.
Recent edited books:
Color Ontology and Color Science (with Jonathan Cohen). A collection of about 12 new papers on colour perception and the nature of colour. MIT Press, 2010.)
Philosophy of Biology (with Christopher Stephens). (Amsterdam: Elsevier/North-Holland, 2006).  Volume 3 of the Handbook of the Philosophy of Science.  A collection of 25 original entries, offering a synopsis and discussions of current research in philosophy of biology and its historical background.  Elsevier, 2006, 640 pp.
Recent papers:
"How To Be Sure: Sensory Exploration and Empirical Certainty," Philosophy and Phenomenological Research, Volume 88, Issue 1, January 2014, Pages 38–69.
"Visual Demonstratives," in A. Raftopoulos and P. Machamer (eds) Perception, Realism, and the Problem of Reference (Cambridge University Press, 2012).
"Is Memory Preservation?", Philosophical Studies 148 (2010): 3-14.
"Drift and 'Statistically Abstractive Explanation'," Philosophy of Science 76 (2009): 464-487.
"Selection and Causation," (with André Ariew), Philosophy of Science 76 (2009): 201-224.
"On the Diversity of Auditory Objects," Review of Philosophy and Psychology 1 (2010): 63-89.
Address:
UTM Academic Annex (room 285B), 1795 Inner Circle, Mississauga, ON L5L 1C6
Secondary Address:
Jackman Humanities Institute (room 412), 170 St. George Street, Toronto, ON M5R 2M8