Alexandra Gustafson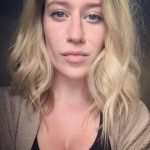 Position:
Graduate Student
Email Address:
Biography:
BA, The College of Wooster
MA, Brandeis University
Alexandra's primary philosophical interests include epistemology (with particular interest in self-knowledge and in feminist approaches to the field), philosophy of emotions, philosophy of literature (especially poetry), and existentialism. She has secondary interests in logic (especially math logic) and early modern philosophy (with special attention paid to the female authors of the period).
Her other interests include classic Russian literature, the colour black, and brooding silently over (many) a cup of dark roast coffee.
Research Interests:
Epistemology, Feminist Philosophy, Philosophy of Emotions, Philosophy of Literature