Benjamin Brewer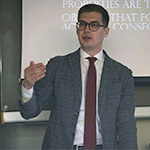 Position:
Postdoctoral Fellow
Biography:
BA, Pacific University
MA, University of Oregon
PhD, Emory University
Benjamin's research focuses on the ontology and politics of time. He works primarily in continental philosophy and 19th and 20th-century German literature. He is currently finishing a book manuscript, Memory Remains, which reads Martin Heidegger and Walter Benjamin with and against one another to show the political stakes of how we conceptualize the relation between collective memory and possibility.
During his time as at the University of Toronto, where he is hosted by Prof. Rebecca Comay, Benjamin is developing two further projects. The first is a book, tentatively titled "Transcendental Nationalism," which argues that debates about national identity and the ontology of race were a primary medium in which post-Husserlian phenomenology wrestled with the relation between transcendental historicity and empirical history. Benjamin is also currently working on a series of articles about Jean Améry and Hannah Arendt, as well as co-editing a volume of essays on Heidegger and black thought and translating the phenomenological essays of Oskar Becker (the first of which has been published in the Critical Philosophy of Race).
Main Research Interests:
Post-Kantian Philosophy, Social and Political Philosophy, Aesthetics, Ethics, History of Philosophy
Other Research Interests:
Philosophy and Literature