Eric Fishback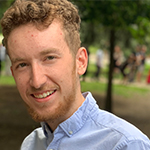 Position:
Graduate Student
Email Address:
Biography:
BA, University of Toronto
Eric is a master's student in the Department of Philosophy with an interest in the intersection of epistemology, metaphysics, and logic. He is especially curious about the metaphysical consequences of non-classical logics.   
In his free time Eric enjoys listening to music, having brunch, and watching the New York Yankees lose. 
Research Interests:
Epistemology, Logic, Metaphysics, Philosophy of Language