Joseph Gerbasi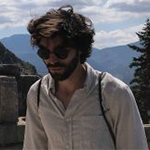 Position:
Course Instructor
Email Address:
Biography:
PhD, University of Toronto
Lately, Joseph has been researching the influence of Greek oratory on Plato's dialogues, showing how Plato's political thought is rooted in the concerns of the public speech of his day—concerns about civic identity, collective memory, and democratic sovereignty, for example. His research has taken inspiration from longstanding debates in social and political theory and history. He is also beginning a project that brings together ancient philosophy and environmental humanities.
Joseph has taught a wide range of courses, including the history of science, the ancient novel, cinema and antiquity, as well as the standard courses in Greek and Latin languages and literature.
Research Interests: