Kristen Beard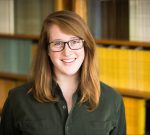 Position:
Graduate Student
Email Address:
Biography:
BA, University of Tennessee, Knoxville
Kristen is interested in the connection between actions and meaning. She is also interested in questions regarding belief, language, and scientific reasoning, focused specifically on the writings of American Pragmatists in the 19th and 20th centuries.
Kristen is a Connaught Scholar, and prior to enrolling at Toronto she completed her BA in Honors Philosophy with a minor in Physics at the University of Tennessee, Knoxville.
Research Interests:
Decision Theory, Epistemology, Logic, Philosophy of Language, Philosophy of Science, Pragmatism, Semantics and Pragmatics