Mark Hallap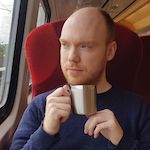 Position:
Graduate Student
Email Address:
Biography:
BA, University of Tartu
MA, Western University
From the land of many shores, Estonia, Mark is interested in the relationship between propositional knowledge and understanding in ancient philosophy, especially in texts such as Plato's Theaetetus. Mark might also dabble in trying to trace the origins of the concept of the proposition in ancient thought, but he will first investigate where he placed his cup of tea.
Mark has worked as an iOS developer and is hoping to nurture a healthy interest in Digital Humanities and how ancient languages can be brought to life on mobile phones.
Research Interests:
Ancient Philosophy, Epistemology, Philosophy of Language