Mark Hallap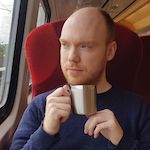 Position:
Graduate Student
Email Address:
Biography:
BA, University of Tartu
MA, Western University
Mark is a PhD student in the Philosophy Department. His interests lie at the intersection of formal epistemology, AI and machine learning, and philosophy of science. He also has a background in ancient philosophy. Mark has worked as a programmer and likes reading science fiction novels.
Research Interests:
Artificial Intelligence and Machine Learning, Epistemology, Philosophy of Science