Mathieu Duguay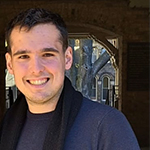 Position:
Graduate Student
Email Address:
Biography:
BA, University of Toronto
Mathieu is an MA student in the general philosophy stream. His main areas of interests are the philosophy of logic, epistemology, and the philosophy of language. He is most interested in exploring alternatives to what he calls "the traditional picture of logic," which analyzes logical consequence as necessary truth-preservation in virtue of structure.
When not thinking about these issues or engaging other philosophy students in the elenchus, Mathieu spends time with his wife, takes long walks, or hangs out on the beaches of the Toronto islands.
Research Interests:
Epistemology, Logic, Philosophy of Language