Nate Charlow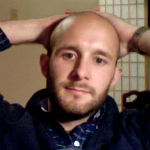 Position:
Associate Professor
Email Address:
Phone Number:
416-978-3311
Biography:
BA, University of Nebraska
MA, University of Michigan
PhD, University of Michigan
Prof. Charlow's research focuses on philosophical issues in the semantics of natural language, often extending into meta-ethics and epistemology. Across his work he has been interested in developing a theory of what philosophers call "content" that better explains how certain types of language — imperative, conditional, modal, deontic, experiential — interface with thought.
For more information visit Prof. Charlow's personal website.
Research Interests:
Metaethics, Philosophy of Language
Address:
Maanjiwe nendamowinan (room 6146), 3359 Mississauga Road North, Mississauga, ON L5L 1C6
Secondary Address:
Jackman Humanities Building (room 516), 170 St. George Street, Toronto, ON M5R 2M8