Rebecca Comay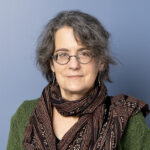 Email Address:
Phone Number:
416-585-4437
Biography:
BA, Philosophy and Ancient Languages, University of Toronto
MA, Egyptology and Assyriology, Yale University
PhD, Philosophy, University of Toronto
Rebecca Comay is professor of philosophy and comparative literature, a core member of the Literature and Critical Theory Program (Victoria College), and an associate member of the Germanic Languages and Literatures Department and the Centre for Jewish Studies. Her research interests include Hegel and 19th century German philosophy; theatricality; Marx and Marxism (including Frankfurt school); psychoanalysis; contemporary French philosophy; trauma and memory; iconoclasm and destruction of art; contemporary art and art criticism; Proust and Beckett. She is currently working on a book on the temporality of deadlines, as well as a project on dramaturgy and dialectic.
For more information on current research (including links to documents), see Prof. Comay's academia.edu page.
Research Interests:
Aesthetics, Continental Philosophy, Marxism, Philosophy of Literature, Social and Political Philosophy
Publications:
Books
The Dash — the Other Side of Absolute Knowing, co-authored with Frank Ruda (MIT, 2018)
Hegel and Resistance, coedited with Bart Zandvoort (Bloomsbury, 2018)
Mourning Sickness: Hegel and the French Revolution (Stanford 2011)
Lost in the Archives (editor) (2002)
Endings: Questions of Memory in Hegel and Heidegger (coeditor with John McCumber)  (Northwestern, 1999)
Selected articles
 "Testament of the Revolution," in Mosaic ( 2017)
"Material Remains," Oxford Literary Review (2017)
"Hypochondria and its Discontents, or, the Geriatric Sublime," in Critique and Crisis (Fall 2016). Open access link.
"Resistance and repetition: Hegel and Freud," in Research in Phenomenology (fall, 2015)
"Paradoxes of Lament: Benjamin and Hamlet" in Ilit Ferber and Paula Schwebel, eds., Lament in Jewish Thought (2014)
"Defaced Statues: Iconoclasm and Idealism in Hegel's Aesthetics," October 149 (2014)
"Hegel's Last Words: Mourning and Melancholia at the end of the Phenomenology," in J. Nichols and A. Swiffen, eds., The Ends of History ( 2012)
"Proust's Remains," in October 144 (2013)
"Krapp and other Matters," in T. J. Morres, Atom Egoyan: Interviews (2010)
"Transmission, Translation, Trauma," in Idealistic Studies (2008)
"Impressions: Proust, Photography, Trauma," in Discourse (2009)
"Adorno avec Sade," in differences, special issue on critical theory and gender, ed. Wendy Brown (2006)
"The sickness of tradition: Benjamin between melancholia and fetishism" in Walter Benjamin Studies (2006)
"Materialist Mutations of the Bilderverbot," in Walter Benjamin Studies (2005)
"Dead Right: Hegel and the Terror," in South Atlantic Quarterly (2004)
"Benjamin and the Ambiguities of Romanticism" in Cambridge Companion to Walter Benjamin, ed. David Ferris (2004)
Address:
Northrop Frye Centre, (room 317), Victoria College, 73 Queen's Park Crescent, Toronto, ON M5S 1K7