Tim McKee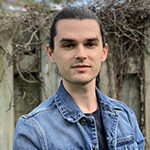 Position:
Graduate Student
Email Address:
Biography:
BA Honours (Philosophy), McGill University
MA (Ancient Philosophy), Western University
Tim's areas of concentration are moral psychology, personal identity, and classical Sanskrit philosophy. He's particularly drawn toward topics such as mental conflict, consistency of character, selfhood, habituation, trust, moral motivation, shame, and friendship. His dissertation is about the social attitudes through which we relate to ourselves over time.
Research Interests:
Ethics, Moral Psychology, Personal Identity, South Asian Philosophy