Timothy McKee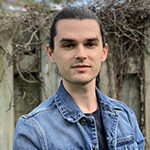 Position:
Graduate Student
Email Address:
Biography:
BA Honours (Philosophy), McGill University
MA (Ancient Philosophy), Western University
Tim's areas of concentration are Plato, Aristotle, and pre-classical Indian philosophy. Within these areas, he's drawn toward topics in ethics and moral psychology, especially moral motivation, pleasure, shame, habituation, persuasion, expertise, justice, and freedom. His main theoretical goal is to explore how ancient approaches to these topics can enrich present-day work in virtue theory and political philosophy.
Research Interests:
Ancient Philosophy, Ethics, Indian Philosophy, Political Philosophy