Vivian Knopf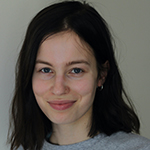 Position:
Visiting Graduate Student
Biography:
BA, Humboldt-Universität, Berlin
Vivian Knopf is a Philosophy MA student at Humboldt-Universität zu Berlin who is currently an exchange student in the master's program in Philosophy at the University of Toronto. She also did her BA at Humboldt, majoring in Philosophy with a minor in Social Sciences. Her main interests are in metaphysics, philosophy of language, and metaethics. At the moment, she is especially intrigued by questions of causation and modality. Besides that, she is also interested in political theory, more specifically theories of recognition and protest, and more broadly human abilities.
Outside of philosophy, Vivian enjoys literature, painting, and going to museums and the cinema. Beyond that, she works as a freelance journalist for Germany's biggest popular scientific philosophy magazine and also finds joy in lyrical writing.
Main Research Interests:
Metaphysics, Philosophy of Language, Metaethics
Other Research Interests:
Political Philosophy