Willi Goetschel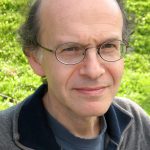 Email Address:
Phone Number:
416-926-2320
Biography:
PhD, Harvard University
MPhil, Universität Zürich
Willi Goetschel's research includes Jewish thought, German Enlightenment and idealism, critical theory, and social and political theory.
Research Interests:
Continental Philosophy, Jewish Philosophy
Publications:
Heine and Critical Theory (2019)
Spinoza's Modernity: Mendelssohn, Lessing, and Heine (2004)
Constituting Critique: Kant's Writing as Critical Praxis (1994)
editor: Collected works of Hermann Levin Goldschmidt (1992-)
Visit Willi Goetschel's publications on the Philosophy Faculty Bookshelf.
A full list of Willi Goetschel's publications is available on the Department of German website.
Address:
Department of German (Room 313), St. Michael's College, Odette Hall, 50 St. Joseph Street, Toronto, ON M5S 1J4