Yi-Cheng Lin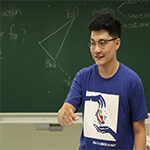 Position:
Graduate Student
Email Address:
Biography:
BA, Soochow University (Taiwan)
MA, National Taiwan University
Yi-Cheng is a PhD student who grew up in Taiwan and moved to Melbourne before coming to Toronto. He is interested in metaphysics including both historical and contemporary perspectives. He also enjoys reading Ancient Greek/Roman philosophy, Hobbes's social contract theory, Kant's moral philosophy, metaethics (esp. normativity), the philosophy of emotion (esp. Sarte's and Heidegger's phenomenology of emotions), and the philosophy of medicine.
For more information, visit Yi-Cheng's personal website.
Research Interests:
History of Philosophy, Metaphysics, Philosophy of Medicine