Donald C. Ainslie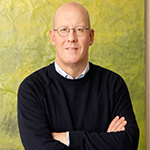 Email Address:
Biography:
BSc (Mathematics), Queen's University
MA, University of Pittsburgh
PhD, University of Pittsburgh
Donald Ainslie's research includes early modern philosophy, David Hume, naturalism in ethics, and the foundation of bioethics.
Research Interests:
Bioethics, Early Modern Philosophy, Hume
Publications:
Hume's True Scepticism. Oxford University Press. 2015
"Hume a Scottish Socrates?", Canadian Journal of Philosophy 33(1). 2003.
"AIDS and Sex: Is Warning a Moral Obligation?", Health Care Analysis 10(1). 2002.
"Bioethics And The Problem Of Pluralism", Social Philosophy and Policy 19(2). 2002.
"Hume's reflections on the identity and simplicity of mind", Philosophy and Phenomenological Research 62(3). 2001.
"Scepticism about persons in Book II of Hume's Treatise", Journal of the History of Philosophy 37(3). 1999.
"The Problem of the National Self in Hume's Theory of Justice", Hume Studies 21(2). 1995.
Visit Donald Ainslie's publications on the Philosophy Faculty Bookshelf.
Address:
University College (Room 165), 15 King's College Circle, Toronto, ON M5S 3H7