The department is proud to announce that our own Associate Professor Jennifer Nagel has recently been elected to serve on the Executive Committee of the American Philosophical Association's Central Division.
As Vice-President (President-Elect), Prof. Nagel joins U of T alumnus (and Distinguished Professor of Philosophy at The Graduate Center at CUNY) Charles Mills, who is taking on the the role of President for the 2017-2018 academic year.
"Participation in the APA is one of our most direct ways to shape the character of the philosophy profession," says Nagel.
As members of the largest philosophy department in North America, "Toronto faculty and graduate students have played a large part in APA meetings for decades, delivering talks, winning prizes, and participating in Author-Meets-Critics sessions on new books," says Nagel. "In recent years, Vancouver has been alone among Canadian cities hosting APA meetings, but Toronto used to do this; in fact, W.V.O. Quine's famous paper "Two Dogmas of Empiricism" was first read at an APA meeting in Toronto in 1950. The Eastern Division of the APA has been seriously considering Montreal for future meetings, and we'd love to have them back in Toronto as well."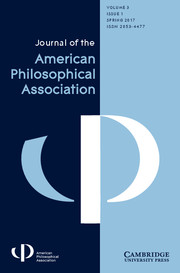 Prof. Nagel also highlights a number of new initiatives the APA has introduced in recent years, including The Journal of the APA, an excellent new publication whose second issue included an article by U of T's own Brian Embry (PhD, 2015).
Other important new APA initiatives include "a blog on topics of general interest, a philosophy teaching resource website, and support for public philosophy and op-ed writing," says Nagel, "all while keeping up their main work of convening our scholarly meetings and advocating for philosophy and philosophers. The advocacy work is increasingly important in a climate of great pressure on the humanities."
Prof. Nagel encourages colleagues from across the discipline to get involved in the APA or the Canadian Philosophical Association (CPA): "The CPA is much smaller," she notes,"but no less valuable to us as a department, and absolutely vital for the cause of philosophy in Canada."
"APA involvement has given me a much better and broader sense of what philosophy in North America is like," says Nagel, "as well as a chance to work on the question of how it could be better."
The department warmly congratulates Prof. Nagel on her election, and we look forward to working together to growing and strengthening the various facets of philosophical study on this continent—and beyond.
SHARE