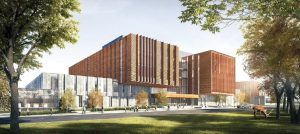 *Update: August 7, 2018* If you are a UTM Philosophy student, please be advised that the department has now moved to the  New North Building on UTM campus. Your professors' office locations have been updated on our website; make sure you check where their offices are if you plan on going to see them.
The fast-growing UTM Philosophy department will be moving to a spectacular new home this July: the North Building Phase B is a 210,000-square-foot, six-story addition to the existing North Building on UTM campus, and Philosophy will share the space with the Departments of English and Drama, Historical Studies, Language Studies, Political Science and Sociology.
UTM staff and students are currently in the process of packing up their things and getting ready for the big move, and the building itself is shedding the last of its construction scaffolding to get ready to welcome its new inhabitants.
The new space is an impressive design by architects Perkins + Will, featuring glazed metallic terracotta walls in earthy tones, bridge structures connecting to Deerfield Hall, and certified LEED Gold status (a recognition of achievement in sustainable, energy- and resource-efficient buildings). Design lead Andrew Frontini is also behind several other UTM buildings, including the Hazel McCallion Academic Learning Centre, the Instructional Centre, and Deerfield Hall.
At the inception of the project in 2015, philosophy Professor Amy Mullin (then Vice-Principal Academic and Dean) said the building would "create a beautiful and more functional home for many of our humanities and social science departments at UTM. It's a dramatic architectural addition to campus, but even more important, it will further improve the academic experience for our students."
UTM Philosophy will no doubt continue to flourish and welcome future students in their impressive new home.
SHARE